Digital diva HATSUNE MIKU finally debuts in HAKOVISION's 3rd series!
Re-create the world's first palm-sized 3D hologram live of the wildly popular HATSUNE MIKU! Includes popular CM songs such as "Tell Your World", "World Is Mine", "Nijigen Dream Fever" and "Story Rider"!
Includes 2 types. 2 songs each. (Video is approximately 8 minutes)
(1)Tell Your World/Nijigen Dream Fever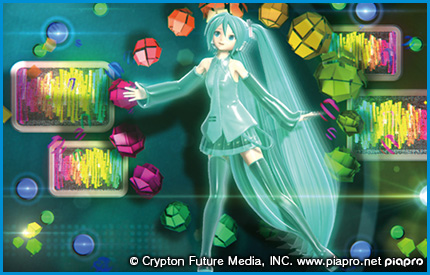 Tell Your World / livetune
Nijigen Dream Fever / PolyphonicBranch
(2)World is Mine/ Story Rider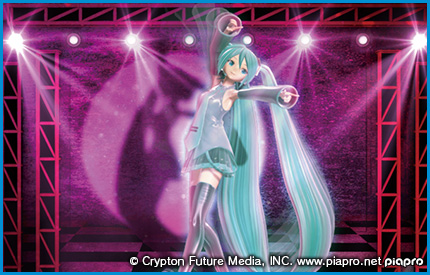 World is Mine / ryo(supercell)
Story Rider / ELEKI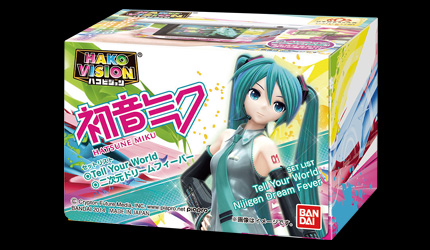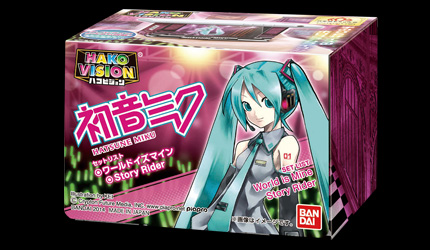 *Product images may differ from the actual product.
Full of fun elements! The further charms of HAKOVISION HATSUNE MIKU.
POINT1 The performance changes whenever it is played?! Comes with the "Palm Life System"!
POINT2 A HAKOVISION video submission project, "Palm Live Festival!" for general creators is scheduled to take place.
What is Miku Hatsune?
A package character for a "singing software" created by Crypton Future Media, INC. based in Sapporo, Japan. It became popular as a platform for amateur creators to submit animation and music compositions online. As a character in the spotlight, it is successful in many areas such as merchandise and concerts etc.
Official WEB
Video Production: Wakamura P / Wakamura Atsushi
Crypton Future Media, INC.
>Profile of Wakamura P / Wakamura Atsushi
He is an art director/designer who has created many famous works concentrating on VOCALOID animations.
wakamura plex(blog)
>Product Name
HAKOVISION HATSUNE MIKU
>Reference price
JPY 500
*Reference price is based on the retail price in Japan.
Outside of Japan, retail price varies by location.
>Types
2 types. 2 songs each
>Product Contents
1 Stage, 1 Clear Plate, 1 Gum
>Package size
59mm(H)×85mm(W)×65mm(D)
2.3"(H)×3.4"(W)×2.5"(D)
>Launch Date
Scheduled for fall 2014.
*Please be informed that the launch date of the product may vary depending on the store.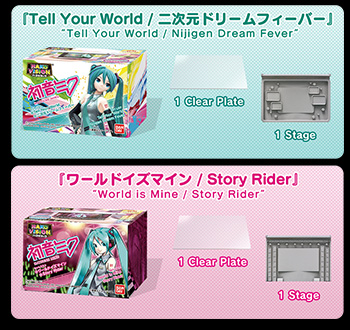 *In order to fully enjoy HAKOVISION, a smartphone device is required. Feature phone and tablet devices are not supported.
*Playback of the video may differ depending on the screen size of the device.
*On non-supported devices, please select the video with the closest screen size to the device before playback. Please note that while playback is possible, there is a possibility that the intended level of entertainment of this product may not be achieved.  >>>Compatible Device
*The video will be played using YouTube.